Auto Locksmith – Mobile and Ready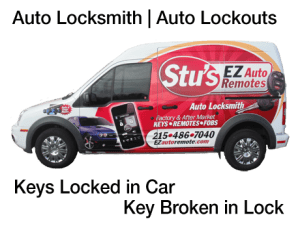 Many people are amazed when I pull up to help them, open the doors to my van and start pulling out what's needed to solve their key and auto remote problems.
Auto Locksmith tools
Keys
Key fobs
Electronic Key cutters
More tools
Desks & chair (yes, it's a mini office)
Even more tools
Auto Locksmith – I have what I need to do the job
Basically, everything an auto locksmith would need to make & program car keys and get people back into their cars is in my van.
Have a look for yourself:

You can see for yourself, I'm a fully equipped (and very mobile) auto locksmith.
Auto Locksmith – My Van can serve your needs
Do you have broken car keys?  Need to get back into your car?  Need a replacement auto remote?  If you're within 25 miles of Fairless Hills, PA, I can be out to you within half an hour, remove your broken car keys, make you a new one and have you on your way.
Call me…I'm EZ.