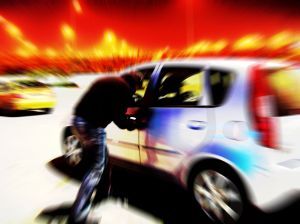 Auto Alarm – A Good Investment
You've made a sizeable investment in your car…doesn't it make sense to make a small investment to protect that larger one?
The good news is that auto theft has been declining for a number of years.  Better technology to keep thieves out of the cars, well trained law enforcement and effective auto alarms have all contributed to the decline.
The bad news is that in 2011 there were 712,816 autos stolen and the return rate for stole vehicles was 11.8% (including autos with tracking/recovery systems).  This means if your car is stolen, there's a 90% chance you're not getting it back.  And there's no doubt that if your car is stolen, YOU WANT IT BACK!
Auto Alarm – The Most Sensible Thing To Do
Certainly the most sensible anti-theft tip that insurance companies offer is to lock your car every time you leave it (even for the 30 second run into 7-11).  The second most recommended tip is to install an auto alarm.
Yes, they are popular, reliable and relatively inexpensive (compared with the PITA costs you incur when having your car stolen), but there are quite a few of them.
So how do you find out the best sources of honest information to make the best auto alarm choice for your car?
Auto Alarm – Three Tips For Picking The Best
Here are three tips for selecting the best auto alarm system for you.
First try the review site TopTenReviews.com for Auto Alarm Systems site.  This site has been a reliable source of comparative information on just about everything for many years.  The information is very comprehensive and the reviews are clear and unbiased.  A great place to start.
Second, once you've researched the variety of systems and narrowed them down to a few, go visit some auto forums and search for discussions (called threads) on these forums to read what people have to say about their experiences.
Third (and yes this is a bit of a plug) give me a call and pick my brain. I've installed hundreds of auto alarm systems. Troubleshooting, installation, repair, experimentation ..I've done a LOT of work with auto alarm systems.  I know quite a bit about the different systems and can answer your questions (no selling, I swear) to help you make the best choice.
You don't have to turn the search for an auto alarm system into a month long project (most of the systems are very, very good and do what they are made for very well).  It generally is a matter of features and price.
But you should do a little research (a half hour maybe).  Or just skip it and give me a call.  I'm Stu and I'm EZ.